Stand-Alone Update Manager-
In case of large-scale network installations, Administrators can deploy multiple Update Managers across the network and configure Groups of clients to receive updates from the specified stand-alone Update Managers installed across the network. Update Managers helps a network achieve load balancing and can prevent network congestion as clients will no longer have to point to a single update source.

Endpoint Security 5.0 Update Manager download locations:

Update Manager for 32-bit Systems




Update Manager for 64-bit Systems





How to configure an Update Manager:

Step 1: Configuring an Alternate Update Manager (Update Server) URL

1. Download and Install the Thirtyseven4 Standalone Update Manager on a machine with an Internet connection.
Note: Make sure that a copy of the Thirtyseven4 Endpoint Security Client is installed on the system that you are installing the Update Manager on

2. Open the Standalone Update Manager > Go to Configuration > Updating mode and select Download from Internet Center. To save the settings, click Apply.




3. Configure the Update Manager 5.50 folder of the Thirtyseven4 Update Manager into a website using the web server (say IIS). The Update Manager 5.50 folder will be available in the folder where the Thityseven4 Update Manager is installed. For example, if the standalone Update Manager is installed on the C drive, the Update folder will be available in the following location: 'C:\Program Files\Thirtyseven4\Update Manager 5.50\'. Use this path as the home directory for configuring the website on the web server


Step 2: Adding the URL established after Step 1 the in Alternate Update Manager list of your EPS sever.

1. Open the Thirtyseven4 Endpoint Security web console.

2. On the Home screen, click the Update Manager link (available next to the product name and version details).

3. On the Update Manager screen, click Alternate Update Managers.

4. In the Enter Update Manager URL text box, type the alternate update manager url you configured in Step 1 and then click Add.

The URL can be the ip Address of the system where the Thirtyseven4 Update Manager is installed. The Port will be the port number used to configure the website on the web server. For example, the URL can be http://192.168.100.1:8080.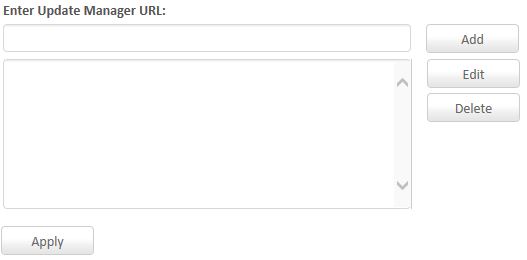 Step 3: Configure different Update Server for different Clients:

1. Open the Thirtyseven4 Endpoint Security web console.

2. Click Settings > Client Settings > Update Settings.

3. Select the update mode as 'Download from specified Update Server'.

4. The list of alternate update managers configured in Step 2 will be shown. You can arrange the URLs according to your priority. Once these settings are applied, the clients will fetch updates from the configured alternate Update Managers.

Please Note:
You can also create and manage multiple Policies within multiple Groups so that different Groups of Clients can utilize different Update Servers per each policy.

For additional questions and answers about setting up Alternate Update Managers, please click here.