Complete Thirtyseven4 Antivirus Feature List


Firewall: The new Firewall module available under the Protection Center section completely shields a system from intruder attacks and hackers by filtering all incoming and outgoing network traffic. In addition, the firewall blocks all suspicious and potentially harmful programs and applications from accessing your computer systems. This level of protection protects computers from malicious programs trying to enter a system from outside an Internet connection or from incoming network connected systems. Traffic Rules, Program Rules and Stealth Mode are all configureable.





Vulnerability Scan: The new vulnerability scan runs silently in the background during a Full System Scan. This intelligent scan looks over a system and its installed programs to see if any new patches or service packs exist for popular 3rd party software (ie. Microsoft, Jave, Adobe, etc.). Links to the latest patches will be provided.

Main Dashboard (GUI): Thirtyseven4 Antivirus sports a slightly redesigned main interface. The interface has been enhanced to provide real-time responsiveness. Latest Twitter and Facebook news from Thirtyseven4 can now be instantly relied to the end user.

Virus Protection - Virus Protection is an on-access virus scanner module that provides real-time protection against the latest viruses, trojans and other forms of malware. By providing real-time protection, Thirtyseven4 Antivirus 2014 scans applications as they are being accessed (downloaded, copied, etc). The Virus Protection scan engine has been enhanced in the 2014 series in a number of ways, including the avoidance of re-scanning of files that have been scanned previously. This produces a more efficient scanning process, running faster and lighter on your Network.

AntiMalware - Thirtyseven4's detection and prevention against today's Malware AND our provision of complete Malware removal sets us apart from almost all other AV products across the Globe. The Thirtyseven4 AntiMalware module eliminates the need for other 3rd party security applications.





AntiRootkit - Thirtyseven4 AntiRootkit is an advanced component designed with cutting edge technology that detects and cleans rootkits proactively by performing deep system scans. While most products merely provide entry level scanning, Thirtyseven4 AntiRootkit scans hidden running processes, registry keys and critical system files for any suspicious rootkit activity.

Web Browser Sandbox - This powerful browser sandbox ensures that any browser-exploiting threats are automatically contained and are unable to affect your system by creating a virtual browsing environment, protecting your system against zero-day malware attacks, compromised websites with 'drive-by' malware downloads and keyloggers.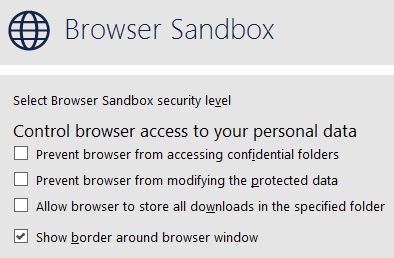 Browsing Protection - Browsing Protection features the latest in integrated Cloud-based technology, and blocks thousands upon thousands of malicious ip addresses, domains and sub-domains daily, thus protecting your computer from dangerous and malicious websites, and allowing for a safe browsing experience.

Enhanced Scan Engine with new Machine Learning Abilities - The Behavioral Detection System has been thoroughly and carefully trained over the course of years to recognize threats as they arise, allowing the scan engine to detect threats automatically, which has provided industry leading detection rates and a smaller engine size. Other antivirus solutions may offer static heuristics but Thirtyseven4 now provides both static and advanced dynamic heuristics. We are out detecting the competition.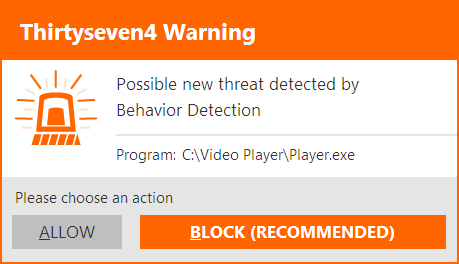 Data Theft Prevention - The Thirtyseven4 Data Theft Prevention component blocks access to flash drives and other USB storage devices. This uniquely created component has been designed to prevent unauthorized copying of data and protection from viruses and other malicious applications entering your computer through USB storage devices.






IDS/IPS - Thirtyseven4 Silent IDS/IPS consists of an Intrusion Detection System & Intrusion Prevention System. The Intrusion Detection System uses a signature based detection method, as it has embedded rules to detect various attacks & vulnerabilities in the system. It scans network traffic for malicious packets and if any of the packet signatures match a Thirtyseven4 predefined IDS rule then these packets will be discarded and won't reach your computer.

Automatic Updates - The Thirtyseven4 Quick Update has been designed in such a way to allow for hassle-free, automatic updates, which occur multiple times a day.

Compressed Virus Database - Thirtyseven4 signature files within the Virus Database have been optimized by 25%

Technical Support / Customer Service - The Thirtyseven4 Antivirus main Dashboard has been enhanced with easy accessibility to the Thirtyseven4 Support Center and other Support Services and Resources. Our live and web-based Support continues to be industry-leading in knowledge, availability and friendliness.