MEDINA, Ohio, November 21 -- Antivirus and security company Thirtyseven4, LLC warns today of the increased number of fraudulent "drive-by" web stores that surface during the holiday season. A "drive-by" website suddenly appears (and then disappears) online with the intent to do harm to visitors during the short lifespan of the site. Dangers often come when a user downloads and installs unwanted or malicious software simply by visiting the website or by tricking a user into a fraudulent credit card transaction for merchandise that will never be shipped.

Black Friday deals, Cyber Monday, and a culture of consumerism set cybercriminals up in a perfect storm. Online shopping is at an all-time high this time of year and Thirtyseven4 anticipates the number of fake e-commerce websites appearing online will likely increase 100% over this holiday season.

"If a brand new brick and mortar store popped up out of nowhere one day, and offered unbelievably good deals on Coach handbags and Rolex watches, we would be suspicious. The same "street smarts" should be applied to online shopping", said Steven Sundermeier Owner of Thirtyseven4, LLC. "Education better equips smart online-shoppers," he concludes.

Thirtyseven4 has released four tips to recognize bogus "drive-by" e-commerce sites:

1. Appearance – How is the grammar and punctuation of the website? Is it easy to navigate? Legitimate online store sites are professional and user-friendly.

2. Believable – Is the website offering a new Xbox One Console or Gold iPhone 5s for $25.00? If a deal seems too good to be true, it likely is!

3. Credible – Other than purchasing online, does the store offer any other order placement method? If you Google the website address, what is the Google website placement when the search is completed? For established companies, the completed results would have the address in the first position. When was the website created?

4. Checkout – When entering credit card information and finalizing an online purchase, it is critical to verify that the website is secure. The checkout section of all legitimate sites will begin with "https" (instead of "http"), noting that it is secure, and should also display a padlock icon next to the web address. You may also note the payment service being offered (ie. Paypal), as unidentifiable payment services will never be used by genuine web stores. Below is an example of a secure checkout: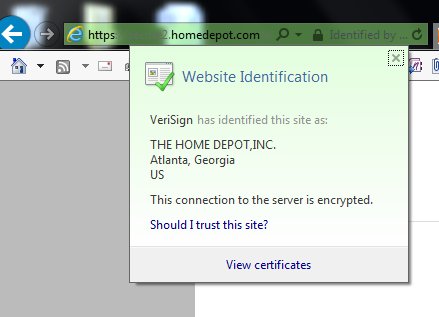 For more useful security information, to find out more about Thirtyseven4 products and services or to download Thirtyseven4's free Goodwill security tools, visit: http://www.thirtyseven4.com.

About Thirtyseven4:
Born out of a desire to better connect antivirus protection solutions with premium customer support and service, Thirtyseven4, LLC seeks to protect schools, businesses, governmental agencies and home-users with the best antivirus products available. Thirtyseven4 is an American company built on honesty, trust and value for the customer. Visit us at www.thirtyseven4.com.