Features and Product Enhancements Developed for EPS 7.2 include:

Cloud-based Public Installations:
The Thirtyseven4 EPS Console can now be installed publicly on Azure or AWS cloud servers, etc. The Client Packager has also been greatly enhanced to work within these environments and even provides an additional option to enter alternate/public/natted IP address or domain name for quick remote client deployment (speeds equal to internal deployments).

Improved Patch Management:
Support for Non Microsoft Applications: This feature has been enhanced to support patching of non-Microsoft applications such as Adobe Reader, Acrobat, Flash Player, VLC, Java, Putty, Notepad++, 7-Zip, Mozilla Firefox and Mozilla Thunderbird.

Offline Patch Management: Thirtyseven4 EPS 7.2 also supports Offline Patch Management helping administrators create offline patch files that can be transferred to remote offices/locations through USB Disks/CDs/DVDs. These offline files can be imported into the Local EPS Server to patch endpoints even if the EPS Server does not have connectivity to Internet/Central EPS Server.

Scheduled Internet Access:
With this feature administrators can schedule/restrict Internet access at all times or on specific time slots for users within an organization. It also includes a provision to exclude certain internal URLs/ official websites that are required for daily operations.

Additional Ransomware Protection Configuration:
With Thirtyseven4 EPS 7.2, administrators have the flexibility to enable/disable data backup taken on specific endpoints through the console. This feature also provides email and SMS notifications to administrators in case of a ransomware attack.

Enhanced Reporting:
Administrators can fetch reports on an "user" level to identify specific end-users who have violated a configured policy or are continuously violating a policy.

Reset web console password option:
A 'Forgot Password' link has been added on the TSEPS Console login page. You can use the link for resetting the web console password. If the SMTP settings has not been configured, a user can reset the password using a password reset tool. The password reset tool is located at the install location.

Windows 2016 server support added for the TSEPS client.


Features and Product Enhancements Developed for EPS 7.0 include:

Patch Management -- Enables the centralized management for checking and installing the missing patches for Microsoft applications installed in the network.






Enhancements in Advanced Device Control like support for adding USB devices by model name, device encryption, allowing Temporary Device Access to permit temporary access to a device on the client for a specific period.





Thirtyseven4 Endpoint Security (version 17.00) Client included. The new client incorporates:

Anti-Keylogging system:





Anti-Ransomware module:





Backup & Restore option for Ransomware safeguard and other cutting-edge new technologies.

EPS server installation on DHCP IP address is supported.

EPS server installer will install required IIS Components automatically on Vista and above Operating Systems.



Features and Product Enhancements Developed for EPS 6.4 include:

The main developmental objective of EPS 6.4 was making the Console more robust, responsive and scalable for large scale deployments. Many enhancements in this area were added based specially on feedback from our loyal customers.

Enhanced Performance

Scalability
The EPS server is now scalable to manage several thousands of network endpoints with ease and minimal overhead on system resources.

Responsive Interface
To improve our customers experience, we have seperated all the UI actions and background tasks and all UI actions are prioritized. Interface response times have increased 200%.

Faster policy deployment
To achieve fast policy deployment, we have implemented the pull Method design. Now the agent server sends a command to all the clients to pick up the policy from the EPS server and the client itself pulls the policy from the same location.

Enhanced scan notifications
To optimize the time required to send different notifications to clients, the dedicated number of threads have been implemented to deal with all notifications initiated from the EPS server. You get a real-time progress of the following features; Scan, Update, Tuneup, Application Control Scan, Vulnerability Scan, and Data-At-Rest Scan.

Parallel Remote Installations
The logic of the remote installation procedure has been improved from sequential (currently) to parallel. To accomplish this, a dedicated number of threads have been introduced for the Remote installation and Active directory sync method.

Redirection improvements
An administrator can configure the Windows and Mac client systems to reboot automatically during the upgrade process. If the Redirect and Auto-Reboot of all clients option is enabled, the user receives a 15 minutes reboot countdown prompt during the upgrade process. A forceful reboot occurs after 15 minutes.


Features and Product Enhancements Developed for EPS 6.3 include:

1. The Thirtyseven4 EPS Cloud-Platform has been enhanced. EPS Console 6.2 introduced our Cloud-based Roaming Platform. In EPS 6.3, we expanded upon it. In addition to the ability to fully manage offsite systems as if they were part of your internal network, EPS 6.3 now allows you to create "Offsite" installation packages so that a network administrator can deploy the Thirtyseven4 EPS Client successfully to systems that are not joined to the internal network. Once installed, these systems will automatically communicate back to the internal EPS Console via the Cloud-platform and come under full management.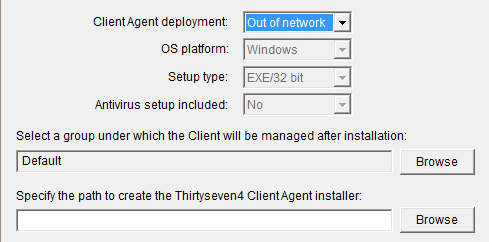 2. During the installation of the Thirtyseven4 Endpoint Security Client, Thirtyseven4 now has the automated ability to rip and replace (uninstall) any existing 3rd party security solution that it recognizes as currently installed. The ability to automate the removal will greatly reduce the transition time between removing another security product in favor of Thirtyseven4.

3. Remote Client deployment is now supported for the EPS Mac Client using Terminal, Putty, Casper, Apple Remote Desktop.



Features and Product Enhancements Developed for EPS 6.2 include:

Two main (and very anticipated) features were added in EPS Console 6.2.

1. The Thirtyseven4 EPS Cloud-Platform has been introduced. By connecting to our Cloud platform and configuring your Roaming Clients, Administrators can now manage offsite (away from the network) systems as if they were on the network. Roaming Clients can be pushed configuration changes, scans, virus definition updates, send malware statistics and module reports back to the Console, etc.






2. Google Chrome and Firefox Webpage Management Support Added. Administrators no longer have to use only Internet Explorer, as additional browser support has been added.


New features and product enhancements developed for EPS 6.0 include:

1. New Console (Main) Dashboard
The enhanced Dashboard contains new site wide statistical listings such as: Status view, Security View and Compliance View. These new listings will help Administrators easily and visually retrieve the information (ie. Harware/Software changes, Top Attacks, Top Blocked Sites, Top Offending Users, etc.) they need to get an accurate and overall picture of the Network Health.






2. Advanced Device Control
With Advanced Device Control, user now have the most robust Device Control module on the market. The new addition, now allow users control over 25 devices with different Access Control settings such as:
- Block Access
- Allow Access
- Read Only Access.

You can now also configure different access policies for the following types of devices:

- Storage devices (USB Storage Devices, Internal CD/DVD, Internal Card Reader, Internal Floppy Drive, ZIP Drive)
- Card Reader Devices (MTD, SCSI)
- Wireless devices (Wi-Fi, Bluetooth)
- Mobiles (iPhone, Smartphone, Blackberry, iPad, iPod)
- Camera (Webcam, Digital Camera)
- Local Printers
- Network Share
- Windows Portable Devices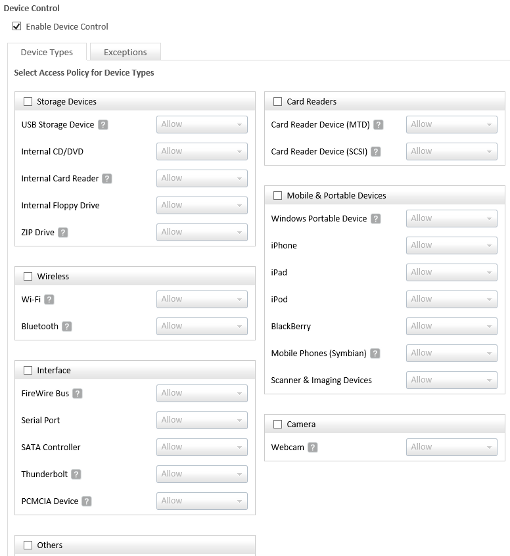 3. Data Loss Prevention (DLP)
With DLP, users can monitor & block potentially sensitive data from leaving an organization through various channels like:

- Removable Devices
- Network Share
- Clipboard
- Print screen
- Applications & Online Services (such as Web Browsers, Email Clients, etc.)

In addition, users can configure the following types of data that can be monitored:
- Different files (e.g. Office files, Image files, etc.)
- Confidential information (Credit Card Numbers, etc.)
- User Defined Data


4. File Activity Monitor
Users will now be able to monitor file activities such as file copy, rename and delete across all systems where the Thirtyseven4 EPS Client is present:

- Local drives
- Removable drives
- Network drives

This feature was developed to assist auditing and forensic activities for internal and external threats.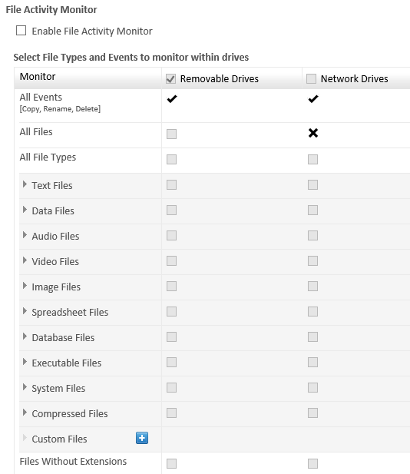 5. Asset Management
This feature will help Network Administrators track Hardware and Software changes in the network (ie. auditing purposes). The module works by collecting the following information about the endpoints:

- System Information like Operating System details, Local user accounts, System Turn ON and Shutdown time, etc.
- Hardware Information like System Manufacturer, Motherboard, Processor, RAM, Storage, Video Adapter, Sound Adapter, Optical Drive, N/W Adapters, Printers, etc.
- Software Installed
- Updates Installed

This feature also keeps track of software and hardware changes happening on the endpoints. For e.g. Processor changed, RAM changed, some software installed/uninstalled.






6. License History
TSEPS web console > License Manager > License Status page will display the License History details like License activation, Reactivation, Renewal, feature pack etc.

This will help Administrators track the changes in the product license over the life span of the license.

7. Redirection of specific Groups/Clients
Administrators now have the added flexibility to select specific TSEPS Groups or Clients to redirect to new TSEPS servers or when upgrading to the latest Console verion. The additional functionaly ensures the smooth upgrade of TSEPS clients in case of large networks and low bandwidth networks.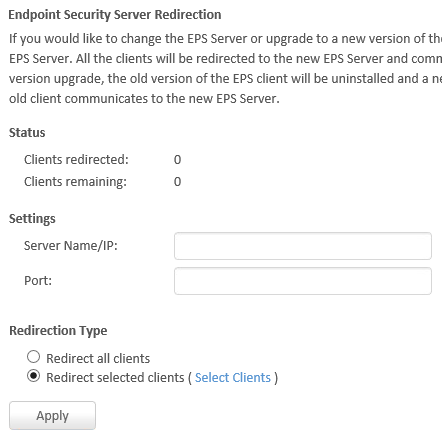 8. Source of Infection
This feature will help Administrators to locate the source of malicious files getting dropped on the endpoints in the network.

9. Managed Policies can be successfully transferred from EPS 5.X, EPS 6.X versions to EPS 6.0.

10. Administrators will be able to uninstall Thirtyseven4 Client AV on EPS server system.

11. CSV reports for Virus Scan will contain the File Location & Module Name information.

12. Enhanced and Additional Categories Added in the Application Control Listing

13. Autocomplete feature is now present for Search box options within the TSEPS web console pages. Users can search clients by IP address as well.





Upgrading Instructions Endpoint Security Console Comparisons