What is it?
The Autorun Protection feature (a component within Thirtyseven4 Antivirus) prevents against malware that exploit the autorun feature of removable devices such as USB drives (memory card readers, flash drives, portable hard drives). The Thirtyseven4 Autorun Protection feature disables the autorun feature preventing malware from self-executing.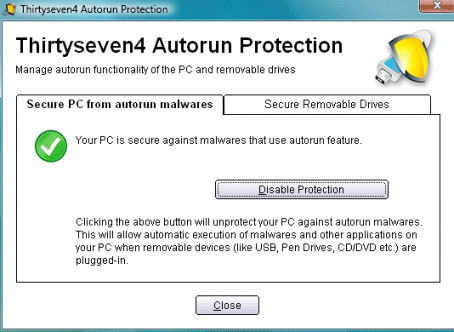 The Autorun feature also allows for the automatic virus and malware scanning on removable disk drives. With this feature enabled, it would prevent infected files that were copied and stored on the removable device from being copied to another computer or network that is being protected by Thirtyseven4 Antivirus. Likewise, if Thirtyseven4 Antivirus was installed at home, it would prevent an infected file that was copied to a removable device from a library, school or corporation from infecting your home PC.

Real world scenerio (Trojan.Sasfis.aehs):

With this particular trojan in order to get a downloaded worm automatically executed, it copies the files "autorun.inf" and "dvd1.exe" (a copy of itself) to any detected removable drive. If successful, when the removable device is connected, the worm will auto launch, begin its payload routine and infect the system. With Autorun Protection enabled, the autorun feature would be disabled, preventing automatic execution. Additionally, the removable device would be automatically scanned for malware. The detected threat would be properly dealt with. With Thirtyseven4 Antivirus installed, this trojan and similar trojans are no threat to your system.

Download a copy of Thirtyseven4 Antivirus Today.